KREWE OF CORK®
"We celebrate Wine! Food! Fun!" says King Patrick van Hoorebeek, speaking of the Krewe of Cork. Founded in 2000, the Krewe of Cork has grown into a world famous Mardi Gras and wine industry phenomenon. Krewe members gather on selected Fridays, usually the first Friday of each month, at restaurants throughout the area for T.G.I.C.D (Thank Goodness It's Cork Day).
The Krewe's two main events of the year are the Mardi Gras season parade day festivities, and participation in the New Orleans Wine and Food Experience Royal Street Stroll. Throughout the year, we invite members to wine dinners and other special occasions such as road trips and wine tastings.
The Mardi Gras season parade day celebration is always two Fridays before Mardi Gras itself and is filled with the three things the Krewe loves most- Wine, Food, and Fun! The day begins with the check in party and continues as we parade through the French Quarter donning wine and grape related costumes. The event culminates with a King and Queen's party that evening. In between, there will be wine, of course, and lunch, and wine, and a brass band, and more wine.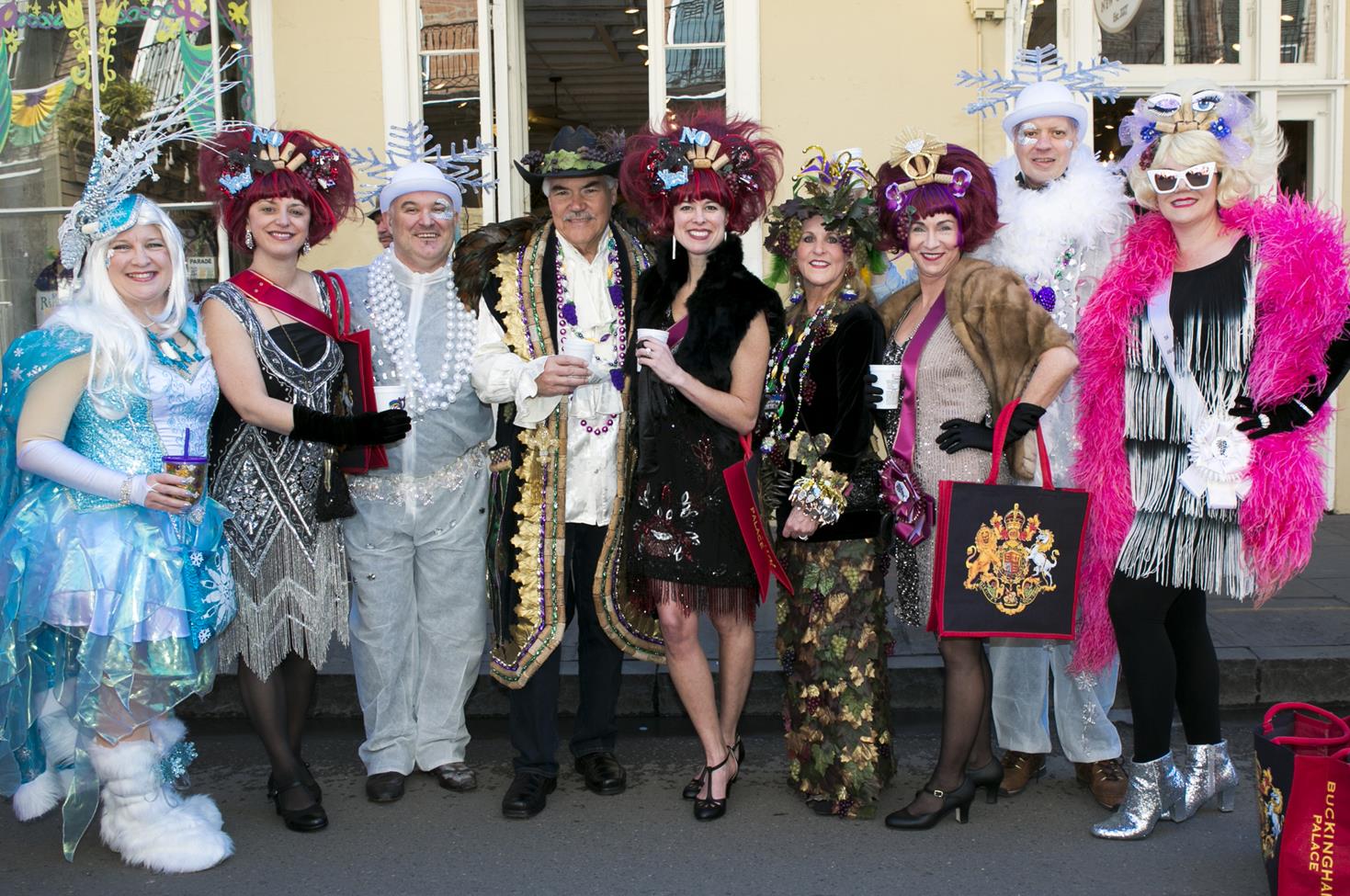 There are two membership options for the Krewe of Cork – Sparkling and Still. For the adventurous, interested in parading during Mardi Gras, a Sparkling membership includes a meet and greet party the night before the parade, all of the festivities on parade day, including the lunch, wine, parade and the King and Queen's Party. The official Krewe Pin, one dozen custom made beads, and a custom made wine goblet.
The Royal Street Stroll part of the New Orleans Food and Wine event is also included.
For others who choose to remain Still the non-parading membership includes an official Krewe Pin. All members will receive periodic newsletters from the Krewe of Cork. Still members may attend the wine dinners and other functions throughout the year.
The Krewe of Cork is more than 400 members strong. If you are not a permanent resident of New Orleans, please do not feel excluded. The Krewe has members that are locals, residents throughout the USA, and international travelers.
The Royal Court is composed of the King Patrick van Hoorebeek , Captain Ronnie Laporte, the Royal Coordinator Jaynie Fedell, Coordinator Emeritus Gillian Pierce, the Lieutenants Walt Navoy, Richard Hoener, Greg Pierce, Maurice Rose, and Jimmy Ray. Past Queens include Mary Reynolds 2001, Margarita Bergen 2002, Debbie Gagne 2003, Mary Ann McDougal 2004, Kate Bishop 2005, Annie Lewis 2006, Gillian Pierce 2007, Sam Poche 2008, and Melanie Talia 2009. 2010 was the Krewe's 10th anniversary and we honored all past queens. Yvette DeBlanc 2011, Allyson Cabes 2012, Gail Cavett 2013, Amy Borrell 2014, Jeffrey McIlwain 2015, Kelly Vaughn 2016, Sarah Blosch 2017, Paulette Slone 2018, Gayle Dellinger 2019. 2020 was the Krewe's 20th anniversary and all of the past Queens will be honored.